TTR Co-Donguri Brass – Noir Black
■Brass front cabinet
By adopting brass material of high specific gravity metal, plays clear and solid bass sound by suppressing the resonance within earphone cabinet.
■2WAY mounting
Normal wearing, ear mounted, both OK for 2WAY mounted model. Ear reduce the touch noise in the mounting. Also recommended during exercise.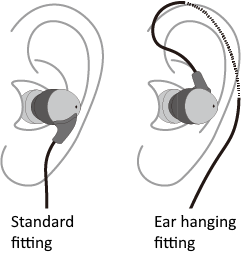 ■Tornado equalizer
Adopt a patent tornado equalizer method of music sound tea in acoustic technology. Canal type of ringleader of sound quality degradation, reduces the resonance in the vicinity of 6kHz caused by blocking the ear canal.
*1 Tornado Equalizer Circuit is Ocharaku's patented acoustic technolog
y(JP PAT.No.4681698, US PAT.No.8885865, EP PAT.No.2461602, CN PAT.No.2067980)
■Spiral cord
OFC Ritz wire × 4 core configuration.Less cable tangling problems by adopting spiral cord.